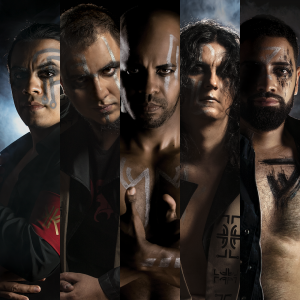 Ciudad de origen: Cali
Género: Metal Rock con intención dramática
Tras terminar en Univalle su carrera en música, los hermanos Fabián y Jhon Tejada (guitarristas y compositores) inician Primal Sinner: un proyecto fundamentado en los principios de la música clásica y con las influencias de bandas como: Metallica, Iron Maiden, Disturbed, Blind Guardian y Helloween.
Tras un laborioso periodo de pre-producción de años, la banda lanza en marzo de 2019 su álbum debut "Dying Like The Sun In The West". Una producción realizada bajo estándares internacionales: fue mezclado por uno de los mejores productores europeos de la actualidad: Jens Bogren (Symphony X, Angra, Sepultura, Opeth, Arch Enemy, Devin Townsend), y masterizado por el ingeniero Bob Katz (award-winning records for EMI, BMG, Virgin, Warner, Sony Music, Walt Disney). El equipo creativo fue completado por el talentoso artista polaco Igor Morski.
La gira promocional del "Dying Like The Sun In The West" fue interrumpida por la pandemia, no obstante, la banda logró participar en el festival internacional FIURA 2020 y FIURA 2021, el concurso Metrópolis y un show privado en 9th Av. Beer and Food. Durante los meses de julio y agosto de 2022, la agrupación fue elegida para ser el acto de apertura del tour Introspección de la agrupación colombiana Gaias Pendulum. Fue una gira con mucho éxito que incluye 12 ciudades del país.
Actualmente Primal Sinner se encuentra trabajando en la producción de 10 nuevas canciones para lo que será su segundo trabajo discográfico y su primer videoclip oficial.
Deseamos estar en tu ciudad. Para agendar puedes comunicarte al 315 4433107 y 316 4173558. @calimusichall – calimusichall@gmail.com.